How to cope with the crisis and quickly adapt your business to the new reality: the experience of Nioly Media Group.
Every business faces challenges sooner or later. But for some companies, the crisis becomes a point of growth, while for others it becomes the beginning of the end. How to keep and develop your business when chaos and uncertainty prevail? Polina Nioly and Nioly Media Group share their experience of overcoming the crisis, which will be helpful for any company.
Accept the fact that you can't go back to the way it used to be
Yes, it can be painful and difficult, but the sooner you accept the new reality, the sooner you can act. Before the general crisis that started in winter, Polina Nioly was developing an online educational company. We had a plan to enter the international market and open a large-scale online school. And the promotion of socials of media personalities was seen only as an additional business direction.
But thanks to the crisis Polina realized that it would be much more profitable to promote business in social media. This is how the digital agency Nioly Media Group was born, which now helps companies, public figures, experts increase income through the development of their socials.
Polina Nioly: "While many businesses were slowly sinking, it was a slap in the face for our company to brace ourselves and re-prioritise. We completely changed the vector of our development and increased income."
Don't limit your business to one city or country. The whole world is open to you, so take advantage of it! And if you have socials, it will be even easier to adapt your business to the new stage.
What can be done:
1. Start working with a foreign audience
Think about where your products or services will be in demand. Learn the features of the international market and step by step enter it. Switch your socials into English if you manage them in another language. Try to work with foreigners, offer cooperation to bloggers or companies that interest you. Here you need to act thoughtfully in order to create a positive image with a new audience and attract them to your products.
2. Develop your social media
Analyze your online resources. What social media do you manage? What benefit do you get from them? What social networks is your target audience in? What are the features of social networks in other countries? What do you lack? Do you need the help of promotion specialists?
For example, today, thanks to Instagram and TikTok, you can quickly expand your business and increase income from social networks. The main thing is to make a competent promotion strategy that will help you achieve exactly your goal. This is the key feature of Nioly Media Group. We don't offer standard promotion schemes, but create an individual strategy for each client and immediately think over how to monetize socials.
3. Increase your recognition
If you want to stay in the same market, show yourself as much and as often as possible. During a crisis, the number of competitors reduces. So, your chances of getting into a favorable position really increase. At this time, it is important to gather all the resources, stand out from competitors and show yourself as a strong market player.
If you want to enter the international market, you need to expand the number of sites presenting you. Think not only about socials, but also about creating a website, publications on the Internet, business cards, and advertising. You can also add tools to present your services offline. It all depends on your goal and how much money you are ready to invest to achieve it.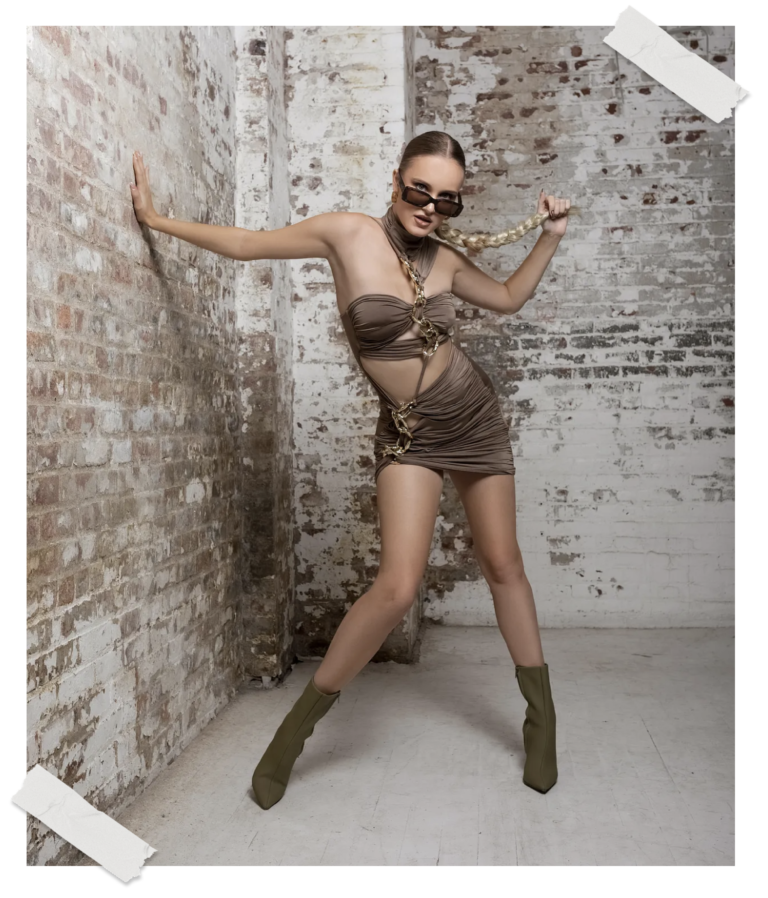 Nioly Media Group: point A and point B
Polina Nioly has a clear position: "Whatever happens, I'm not going to close my business. On the contrary, I will do everything to make it 1000 times more successful. I see every slap in the face as a challenge. And every challenge, like all the previous ones, I will definitely win."
The transformation of Nioly Media Group has been going on for more than six months, and during this time we have completely changed our system of work, increased the number of employees and expanded the range of our services. Here are some examples of how the crisis can help businesses.
Point A:
a company focused on the CIS countries. The key activity is online learning;
we receive the main income in RUB and exchange it into USD. Rate fluctuations affect the company's income;
we work with Russian-speaking people who live in Russia, Ukraine, Belarus and France.
Point B:
a globally oriented company. The key activity is the promotion and monetization of social media for businesses, media personalities and anyone who wants to increase their recognition and income;
Polina Nioly: "We have expanded the work of our promotion agency. We started working not only with actors and musicians, but also with all types of businesses, offering a full range of services: promotion and monetization of social networks, web design, editing, storymaking, copywriting, etc. We work with clients from the USA, Europe and, of course, the CIS countries."
prepared financial platforms for working on the international market as the main source of income (payment systems, LLC, updated contracts, documents, developed a financial strategy). We receive the main income in USD, which made it possible during the crisis not only to keep the salaries of employees at the same level, but also to increase them by 30%;
expanded the team and geography of employees. Now Nioly Media Group employs 100+ people from Uganda, Argentina, Mexico, France, Brazil, CIS countries, Italy.
Polina Nioly: "We are actively expanding the functionality of the team, offering more services and being the first to occupy a niche that is poorly promoted in the US and Europe. And the stronger employees in the team, the more people we will help with the development of social networks."
Any crisis is just a stage that will definitely come to its end. Keep this in mind and try to do everything so that your business easily adapts to the new reality and grows. And if you need help, Polina Nioly and the Nioly Media Group team will create a unique turnkey business promotion strategy for you. They will do everything to successfully develop you or your business on social networks and increase your income.