Millions of people dream of attending the red carpet. But many of them don't even realize that behind the designer outfits, flashes of photographers and enthusiastic applause, there are stress, pain and weeks of preparation. After three red carpets at the film festivals in Venice and Cannes, Polina Nioly got this understanding from her own experience. And now she has her own life hacks on how to look your best. Here are Polina's tips that will be very helpful for beginners.
How Polina Nioly attended her first film festival
In 2020, Polina Nioly began her acting career and not somewhere, but in Hollywood. Thanks to social media, she already had a developed personal brand, which helped Polina try herself in a new sphere and get her first film role. In the film "War Hunt" she, playing a radio operator, worked with Mickey Rourke and Robert Knepper. Along with other actors, Polina was invited to the red carpet of the 77th Venice Film Festival.
"To be honest, even having the achiever character, I didn't expect to get to the world-class festival so quickly. But I feel great being surrounded by cameras and flashes from every angle. It's really pleasing to see the attention of photographers and what people write about me in the media, even though I'm not a world-famous actress."
Polina got ready for the carpets on her own, without any experience, and there were some mistakes.
"The carpets went quite nervously, especially the first one. I fucked it up, cried, my mood was awful. But every time it gets better. The second carpet I already attended with my usual level of 80 confidence and kept that mood until the end of the festival. Now I got used to this rhythm and enjoy it."
After that, Polina Nioly started investing in movies, tried herself as a producer in the action movie "Hounds of War" and the horror film "Russian Roulette", where she also played as an actress. In 2021 and 2022, Polina attended the Cannes Film Festival, where she shone in outfits of famous designers and felt much more confident, because she already knew how to properly prepare for the carpets.
Polina Nioly shares her tips for your first red carpet
1. Keep a calm and relaxed face
You have exactly 30 seconds to take a photo on the red carpet. At the same time, other celebrities are just next to you and also taking pictures, crowds of photographers shout your names and in all this chaos you need to pose. That is why it is better to find in advance your best angles, postures and facial expressions. Although you may use this method to stand out among others and get into the media. Everything depends on your goals.
Advice from Polina Nioly:
"Don't smile and don't try to make a face. Photographers will shout your name and joke around. But if you make some ridiculous face, it will get into the photo and will haunt you your entire life."
By the way, here is a selection of Polina's funny photos from the carpets. Enjoy 😂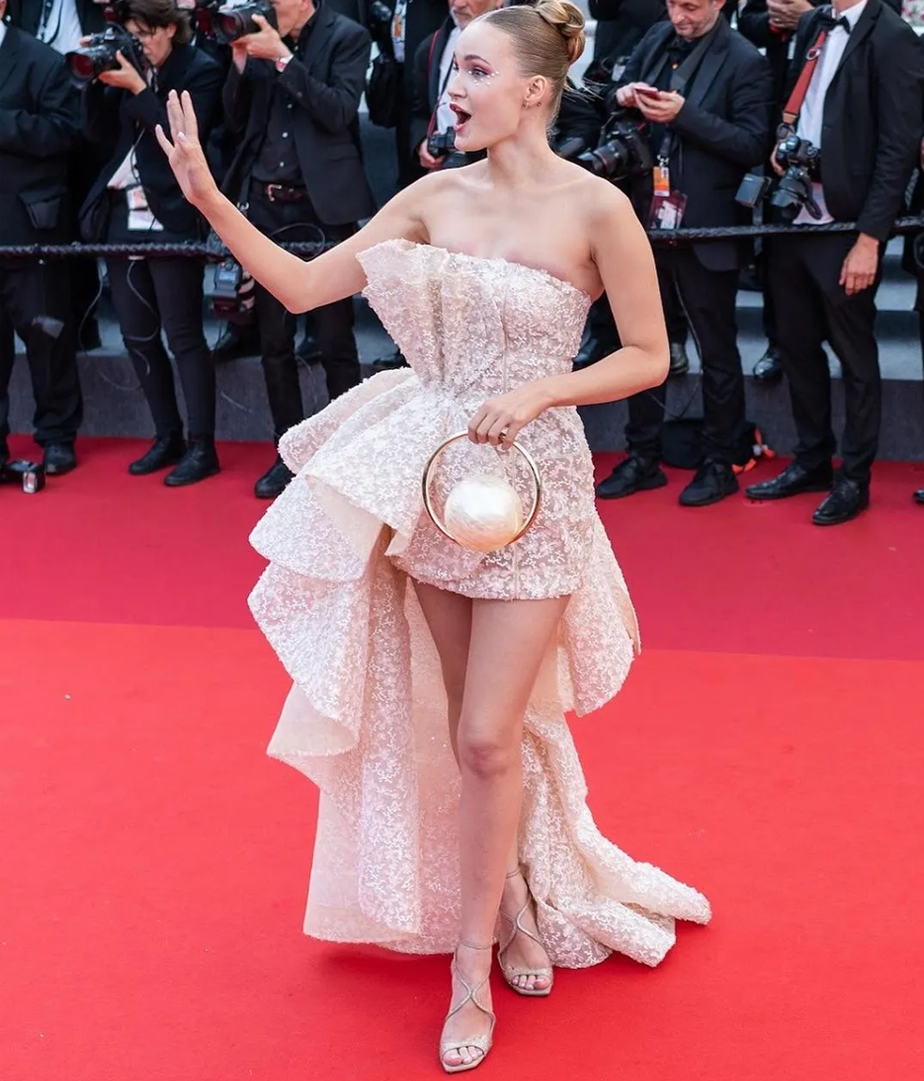 2. Get ready: it's terribly uncomfortable
Designer outfits, shoes and jewelry for tens or even hundreds of thousands of dollars look chic. But in reality, you will have to wear shoes two sizes larger or smaller, dresses will scratch over your skin, and tight hairstyles and heavy accessories will cause headaches.
Advice from Polina Nioly:
"Take an anesthetic cream to apply on your legs after the carpet. Or even better — apply it before the event. Wear a beige bodysuit under your dress (if it is invisible) to protect your skin."
Also, don't repeat the mistakes of celebrities who wear skimpy outfits without underwear. Be sure to wear breast pads and knicker stickers. And to prevent shoes from slipping, rub the shoe soles with sandpaper.
3. Always remove makeup and wash your hair
Photos from the red carpet usually are not photoshopped, so your skin needs to look perfect. A few weeks before the event, go to the beautician and do all the necessary procedures. And before the event, apply foundation not only on the face, but also on all exposed areas of the body, mixing it with a moisturizer. So the skin will look smooth and radiant. Events can last several days, so it is important to take good care of your face and body between carpets.
Advice from Polina Nioly:
"Usually the red carpets are held late in the evening, and you get terribly tired. But in any case, wash off your makeup and hair as soon as you come back to the hotel. Otherwise, after the festival, you will have to spend a lot of time restoring your skin and hair."
4. Have a plan B
Anything can go wrong at an event. You may get the wrong size of the dress or it will not be delivered in time. You will forget accessories or take the wrong shoes. The makeup artist will do makeup that will age you 10 years, or the hairstyle will turn out completely different from the reference. And there are only a few hours left before the event. To avoid additional stress and look chic on the red carpet, come up with a plan B.
Advice from Polina Nioly:
"You need to have a plan B for every dress, jewelry, shoes and accessory. Any fuck-up at the festival is wild stress. So you definitely have to have a plan B, if things go wrong."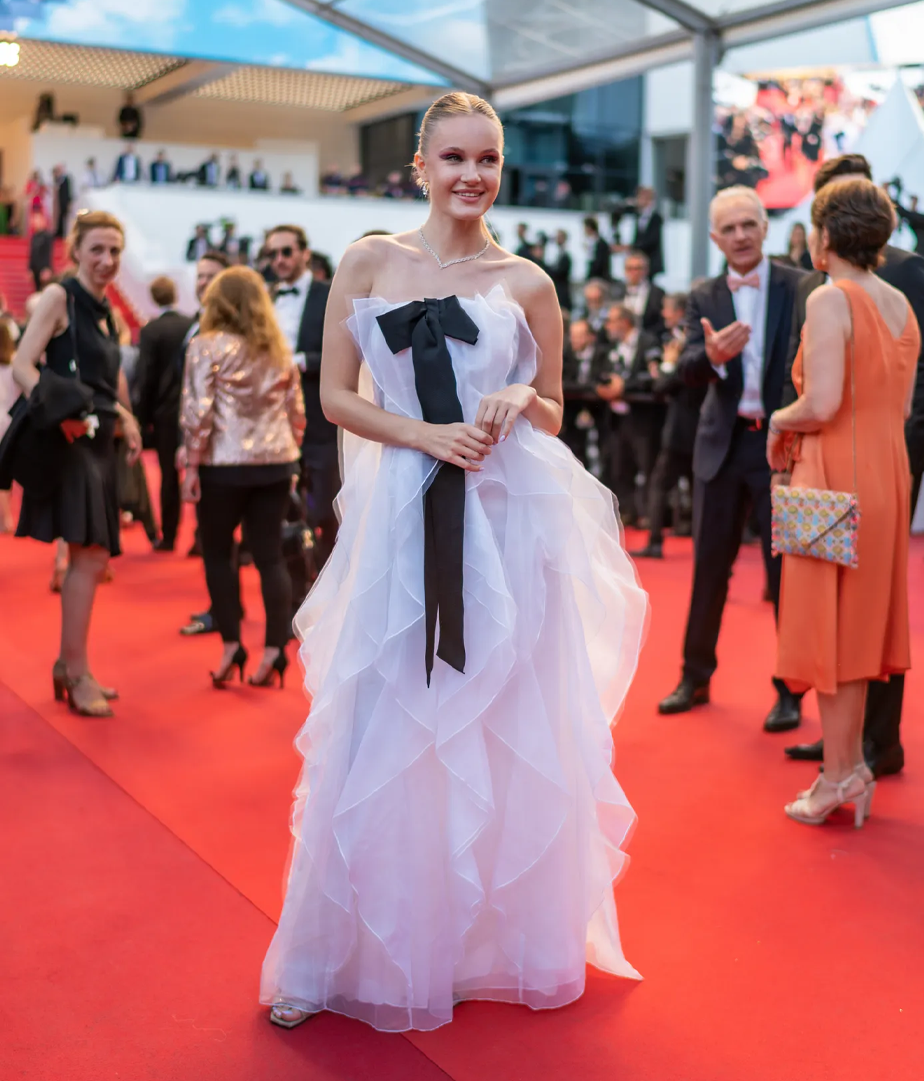 5. Take an assistant with you
Timing at events is scheduled by every minute. You need to quickly move along the carpet, attract the attention of photographers and take as many high-quality photos as possible. Other celebrities with their guards will be just next to you. Everyone is pushing, photographers are shouting, you can't get anything.
Advice from Polina Nioly:
"Always take an assistant with you. The assistant will help free up space on the carpet, guide you where you need to, fix your dress or make-up. An assistant is an investment in how you will look in the media, and is also a person who will keep your nerves."
As you can see, red carpets are not only about fun, but also about serious work. And to get an invitation to a world-class festival, it is important to work even harder. Including developing social networks and reaching an international audience. If you don't want to spend years on blog promotion and waste money on ineffective tools, it's better to ask for help from experts. The Nioly Media Group team and Polina Nioly will help you make your social networks break the Internet and bring you international popularity. Proved by the case of Polina herself!